Modern & Antique Furniture Repairs and Restoration
At J M French Polishing we offer a furniture restoration service. Items can be restored at your home or office, or taken to our workshop. Repairs include re-gluing, re-building, carving, and veneering. Repairs can then be polished to blend in with the original colour. Patination and shading can be faked to make the repair as invisible as possible.
Sympathetic, expert repairs to damaged and broken furniture
The oak coffer below was fully restored on site at the customer's home. The two drawer faces were re-glued and the mouldings replaced. To enhance the beautiful natural colour of the coffer, the surface was washed back with mentholated spirit, polished with button polish and then waxed to a soft subtle sheen. The brass handles were then cleaned to finish.
These chairs (known as 'Smokers Bows', 16 in total) arrived at our workshop in pieces. All of the back splats were either smashed or completely missing. After carefully re-gluing back together the pieces we did have, the back splats were repaired, and some were completely replaced. The chairs were then washed back and the repairs coloured to match the original shade. Soft polish was then applied to maintain the original waxy finish.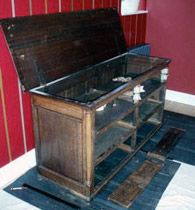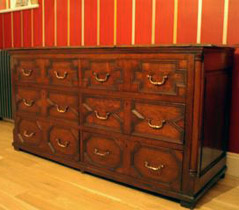 Modern and antique furniture brought back to its best
This Rose Wood veneered modern dining table (below left) was stripped and restored to its original colour, then hand lacquered and waxed to a satin finish. All of the work was undertaken at the customer's home in one day.
These antique pieces of furniture (below middle and right) were restored using traditional methods. We washed back the old surfaces instead of stripping in order to maintain the colour and patination. We then polished with a button shellac to give a soft shine, then waxed to finish.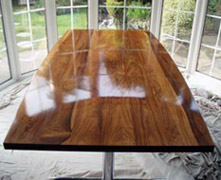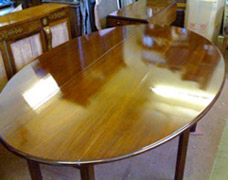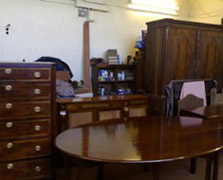 Wooden Bathroom Unit restored
The fitted bathroom furniture in this Surrey home had sun damage. J M French Polishing stripped back to the wood, sanded and then applied two coats of hard wax oil.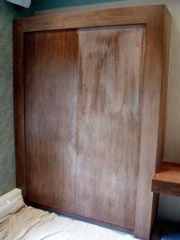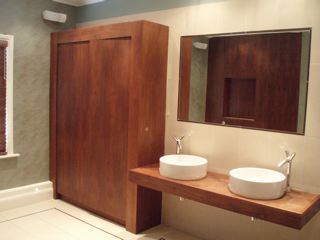 We are delighted to offer a free estimate and advice on all options available - just call 07748 337 052