Wooden Door Polishing, Varnishing & Lacquering
You simply cannot beat the appearance of a hand finished door using French polishing and modern lacquering and exterior varnishing techniques. We not only polish and restore older doors, but we can also stain and polish new doors made from other woods (such as pine) until they have the appearance of darker, older wood.
On architectural or commerical projects, existing doors can be hand French polished and waxed, and additional doors stained and colour matched to the original finish. The examples shown below (left to right) are:
doors that belong to a modern bespoke fitted wardrobe,
solid oak entrance doors to a London apartment block which were stripped and varnished,
beautifully hand crafted solid mahogany doors.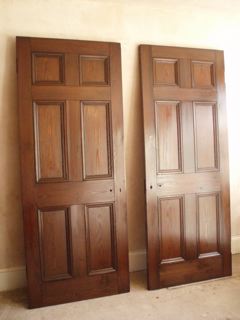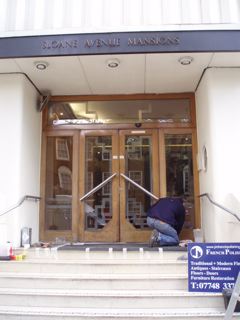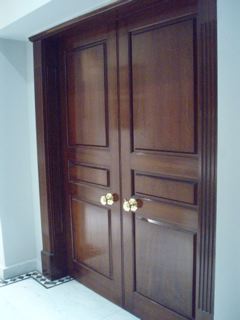 Mahogany doors hand-polished to match furniture
This job was for a private customer in Kensington, via an architectural company who hired us. The house was fully renovated and we were contracted to polish 25 solid mahogany doors (some of which were very large) that had been hand made from the customer's own stock of mahogany.
The customer provided a dining chair as a colour sample for us to match the doors to. The shading was achieved by using many layers of polish and finished by hand.
As the customer was so pleased with the high standard of workmanship, we were then contracted to strip the original pine staircase and polish to match the doors as best we could, shading the spindles and surrounding areas to fake patination and achieve an aged restored finish whilst using modern lacquer finishes.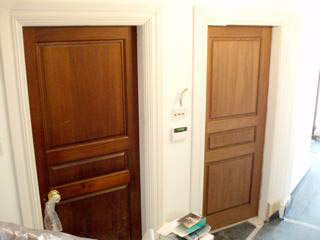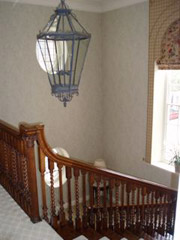 We have since been asked back to polish some floors and fitted furniture, along with the customer's private collection of antique furniture.
We are delighted to offer a free estimate and advice on all options available - just call 07748 337 052